We Carry Ananda Professional CBD Products
Ananda Professional continues the pioneering commitment of Ananda Hemp by bringing to market the first fully compliant and legal CBD oil product line.
Ananda knows that pharmacists and their patients want products that are safe and effective. This exclusive professional line meets strict safety standards and features the same pharmaceutical grade full-spectrum cannabinoids brought to you by the creators of Ananda Hemp.
Brown's Pharmacy carries different forms of delivery and varying strengths so that you can easily develop customized treatment plans.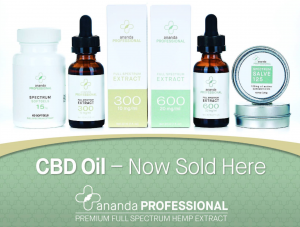 Learn More About CBD Products
For nearly 20 years, Ananda geneticists, scientists and farmers have isolated the best hemp strains in the world, and that's why we have the most superior strains on the market.
PROPRIETARY GENETICS
Ananda is the exclusive source of everything they grow, harvest and sell.
LEGALLY COMPLIANT
Ananda products are 100% compliant and proudly operate under the 2014 Farm Bill.
HIGHEST QUALITY
Ananda continuously tests their extracts to ensure quality and consistency.
FULL-SPECTRUM DIFFERENCE
Ananda full-spectrum products have multiple cannabinoids, not just one or two. Some CBD companies sell products that only contain CBD. We do not believe that CBD by itself is the optimal way to consume cannabinoids.
Need to talk to a Brown's Pharmacy Professional?
We pride ourselves in helping our patients on a personal level. Please reach out to us so we can assist you in your treatment and care.
Why Choose Brown's Pharmacy?
Stop by and see us as we proudly provide healthcare for our hometown, and see why Brown's Pharmacy has been "Serving Irving" since 1973!
Customers First
We promise friendly, fast, and personalized service to our patients.
Knowledgeable Staff
Devoted and caring group of hardworking pharmacists.
Trusted Pharmacy
Founded in 1973 and located in the Irving for over 46 years.
Patient Focus
We proudly distinguish ourselves from chain pharmacies.